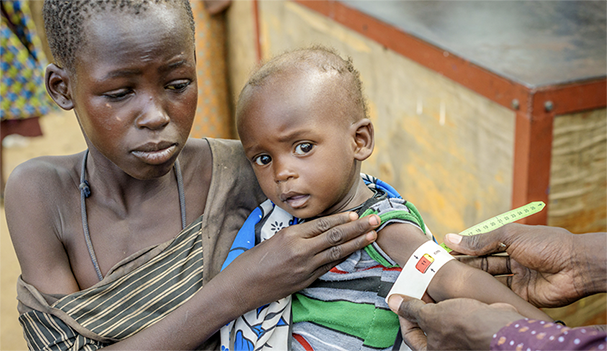 In the 2022 Global Hunger Index, Sierra Leone ranks 112th out of the 121 countries with sufficient data to calculate 2022 GHI scores. With a score of 31.5, Sierra Leone has a level of hunger that is serious.
Starvation
Objectives: Increased incomes from 20% to 70% by December 2027
Outputs:
Food provided
Farmer field school established.
Income generating activities provided.
Micro Credit Loan provided
Activities;
Provide food.
Farmer field school in the community to encourage Community farming.
Provide income generating activities.
Micro credit loan (SACCOS)
Bridge to a Better Life poised to help tackle Starvation and hunger in Sierra Leone
Fighting hunger and starvation is extremely a fight that everyone must be committed to, as goal two (2) of the Sustainable Development Goals speaks to end hunger, achieve food security and improved nutrition and promote sustainable agriculture by 2030. The Agricultural sector is the largest employer in Sierra Leone, with 77.3% of the population working in this sector. Two-thirds of the population is directly involved in subsistence agriculture, with farmers only growing barely enough food to feed themselves and their families. However, widespread poverty remains the main obstacle for economic growth in Sierra Leone. Small harvests and low income mean families often lack the ability to provide for their children's nutritional needs to ensure proper growth and development.
According to the 2020 Comprehensive Food Security and Vulnerability Analysis (CFSVA), 4.7 Million Sierra Leoneans are faced with food insecurity. The level of severe food insecurity is higher among female-headed households compared to male-headed ones. Hunger has increased in recent times due to rising food prices which has spiked across the continent in early 2020 because of Covid 19. According to Yvonne Forse'n, World Food Program's Country Representative and Director, Sierra Leone imports a large quantity of its food, and with the global food and fuel crisis, compounded by the Russia-Ukraine war, poor households have not been spared, and inflation has also meant that people now buy fewer commodities from their income which is increasing their hunger levels. The2022 Global Hunger Index has ranked Sierra Leone 113 out of 121 countries, which apparently shows that starvation is a major issue that warrants attention.
In order to ensure that the fight against hunger is ameliorated in Sierra Leone, Bridge to a Better Life seeks to partner with other organizations to work on a long term sustainable solutions to ensure children and families have enough food to eat to meet their nutritional needs by increasing crop and livestock production through the distribution of tools and training, partnering with parents and communities and encouraging them through advocacy to diversify their incomes with non-agricultural related activities in order to address food insecurity and malnutrition in Sierra Leone.
Sierra Leone is the third hungriest nation in the world: 36% of our children are stunted and food security is undermined by chronic poverty. The country faces an alarming level of hunger with nearly 38% of children younger than five years of age suffering from chronic malnutrition. Food vulnerability has remained a key challenge for people who live in rural communities as they largely depend on subsistence farming as a source of livelihoods, thus rendering households more vulnerable during extremes of hunger seasons. Food insecurity is at 49.8% with 8.6% of households being severely food insecure and 41.2% moderately food insecure.